Camila Mendes Has A New Gig As A Backup Dancer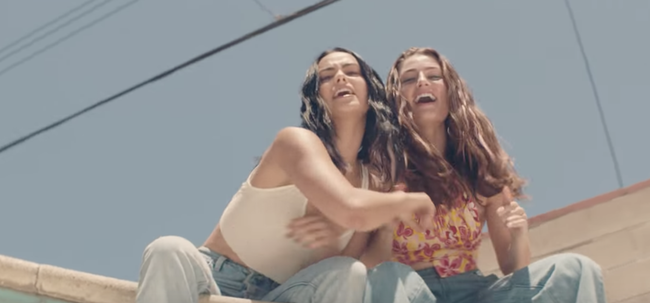 It turns out Veronica Lodge can throw down some serious dance moves. Oops, sorry, I meant Camila Mendes. The 24-year-old Riverdale actress showed off a whole new side of herself as backup dancer in pop star Maggie Roger's new music for her song "Give A Little."
The video has a fun, skater vibe. Maggie sings to the electric, pop girl power anthem in an empty swimming pool as people skateboard around her. Camila, along with Rachel Matthews, co-star in the video as Maggie's backup dancers. The three girls have a cute backstory, too. They all attended New York University together and Maggie invited her BFFs to join her in the video. She shared a promotional video on Twitter showing her inviting Camila and Rachel to be in the video.
"Been thinking about when we used to go dancing in college," Maggie texts in the video. "I'm directing the music video for my next single 'Give A Little'...aka dance party girl gang pop video extravaganza? Wanna be in it?" Camila quickly responds, "F**k yaaaa I'm down."
Maggie really meant it when she said the video was going to be a "dance party girl gang pop video extravaganza," too. The best part of the video is definitely when Maggie, Camila, and Rachel break out into an amazing choreographed dance in the middle of the empty swimming pool.
If this is how Camila and her friends danced at college bars, then I am very impressed! Who else wants to learn the "Give A Little" choreography now? Check out the full video below: