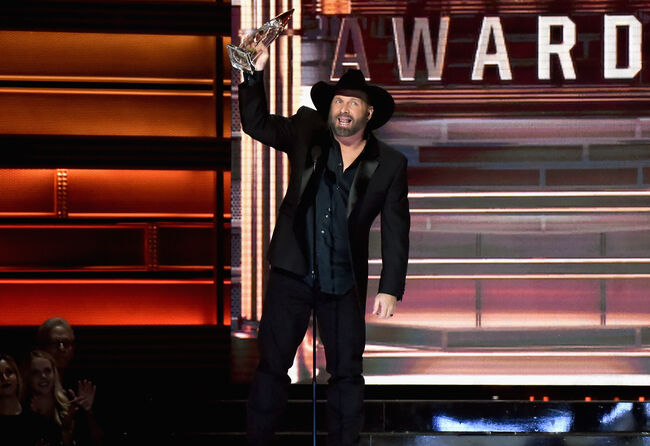 Garth Brooks won the biggest honor of the night at the at the 51st annual Country Music Association awards with Entertainer of the Year.
He said, "To all of us, Miranda said it best, Little Big Town said it best, we're a family."
Chris Stapleton took home two awards. He won Top Male Vocalist and Album of the Year.
Miranda Lambert won the Female Vocalist of the Year honor for the seventh time.
Keith Urban won Single of the Year for "Blue Ain't Your Color."
Taylor Swift won the Song of the Year honor for penning "Better Man," the song made famous by Little Big Town. Swift was not there, but LBT accepted the award in her honor.
Brothers Osborne took home Duo of the Year for the second time.
Brothers Osborne took home the Music Video of the Year for "It Ain't My Fault."
Mac McAnally won his Musician of the Year.
The CMA Awards began with a special tribute from Eric Church performing "Amazing Grace". Darius Rucker then joined, along with Keith Urban and they all transitioned to "Hold My Hand", Rucker's 1994 hit with Hootie & The Blowfish. Lady Antebellum, Kelsea Ballerini, Garth Brooks, Luke Bryan, Brooks and Dunn joined the group and Rucker closed the chorus to a standing ovation.
Everyone's attention then went to hosts Carrie Underwood and Brad Paisley for their monologue. Both wore red in honor of the world's disaster. Brad said, "The best way to honor our fans is to play our music, loud and proud."
Then came the jokes they weren't supposed to tell, per the new CMA media guidelines. Instead of "Hold me closer Tiny Dancer," Paisley wanted to sing "Hold me closer, Bernie Sanders." There was a "covfefe" mention and a joke or two about Hillary Clinton and Donald Trump. In fact, a spoof of Underwood's "Before He Cheats" became "Before He Tweets," and the crowd loved it.

Shannon's Dirty on the :30
Want to know more about Shannon's Dirty on the :30? Get their official bio, social pages & articles on Channel 955!