Salma Hayek Calls Harvey Weinstein Her "Monster"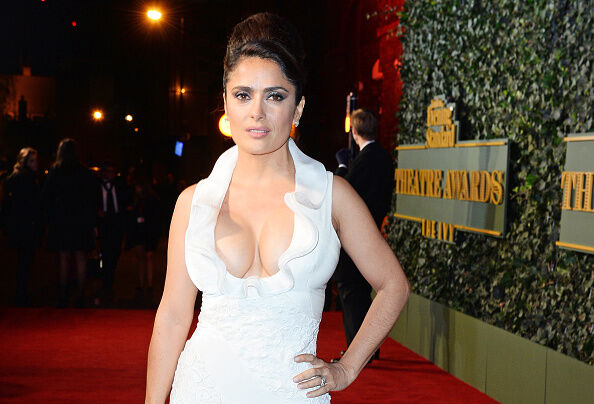 Salma Hayek has joined the long list of women in Hollywood accusing Harvey Weinstein of sexual misconduct. The actress published a piece about her experiences with Weinstein in the New York Times.
She wrote, "For years, he was my monster." She thinks that her friendship with Quentin Tarantino and George Clooney were the only thing "that saved me from being raped."
Salma said there was a long list of "no's" she had to use with Harvey Weinstein:"No to opening the door to him at all hours of the night, hotel after hotel, location after location, where he would show up unexpectedly. No to me taking a shower with him. No to letting him watch me take a shower. No to letting him give me a massage. No to letting a naked friend of his give me a massage. No to letting him give me oral sex. No to my getting naked with another woman."
Hayek said Harvey didn't like the word 'no' and would go into a rage if he didn't get what he wanted. At one point he told her "I will kill you, don't think I can't."
She said dealing with Weinstein as she was making "Frida" in 2002, was like a war. Weinstein constantly belittled her as an actress and producer during the shoot. At one point, he threatened to kill the film unless she did a nude scene with another woman. She recalls being physically sick the day of that shoot.
"It was not because I would be naked with another woman. It was because I would be naked with her for Harvey Weinstein."
She says she finally felt like she could come forward after all of these years and tell her story.
A spokesperson on behalf of Harvey Weinstein responded to Salma's allegations about Harvey's inappropriate behavior and sexual demands on the set of "Frida" back in 2002.
The statement says:"Mr. Weinstein does not recall pressuring Salma to do a gratuitous sex scene with a female costar and he was not there for the filming. However, that was part of the story, as Frida Kahlo was bisexual and the more significant sex scene in the movie was choreographed by Ms. Hayek with Geoffrey Rush. All of the sexual allegations as portrayed by Salma are not accurate and others who witnessed the events have a different account of what transpired."
Source: NY Times, Page Six

Shannon's Dirty on the :30
Want to know more about Shannon's Dirty on the :30? Get their official bio, social pages & articles on Channel 955!