Kehlani Identifies As "Queer"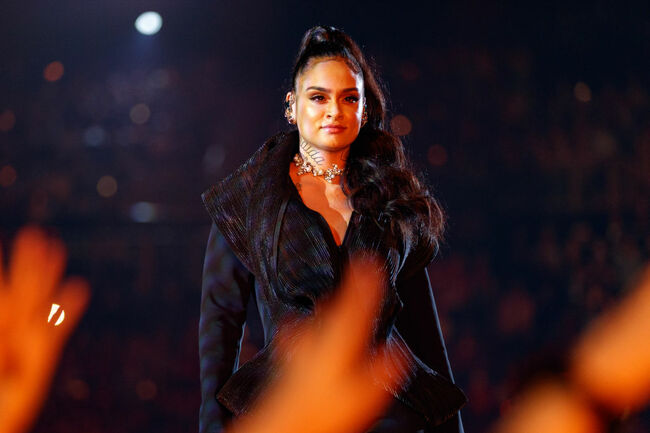 Kehlani is opening up about her sexuality in a series of tweets after she kissed Demi Lovato onstage earlier this month.
Kehlani identifies as queer.
She tweeted, "cuz I keep getting asked, I'm queer. Not bi, not straight. I'm attracted to women, men, REALLY attracted to queer men, non binary people, intersex people, trans people. lil poly pansexual papa hello good morning. Does that answer your questions?"
In a second tweeted she wrote, "and since we on that, I'm the LEAST attracted to straight men, y'all really adorable sometimes tho. Bisexual men really are little gifts from god tho."
Kehlani apologized after a Twitter user told her some people would be offended by the labels she used, writing, "I felt gay always insisted there was still a line drawn as to which 'label' of human I was attracted when I really jus be walking around thinking ERRYBODY FINE."
She continued by saying, "damn I didn't know that!! If there's anyone out there I've ever offended with the word, I'm sorry! I'm with the reclaiming of the word but if there's any1 day loves me dat isn't, I sorry I lurvvv u."
Late Sunday, Kehlani revealed why she had deleted some of her previous tweets, writing, "I retracted my queer tweet because I am being corrected about that way in which I listed the gender spectrum and I'm super super sensitive to being offensive especially when I'm only trying to appreciate. Point is, I love love, and that love lies in every gender there is."
Yesterday she clarified that identifying as queer wasn't the issue, "it was the singling out of trans & intersex which sounded transphobic and ignorant."
Source: People

Shannon's Dirty on the :30
Want to know more about Shannon's Dirty on the :30? Get their official bio, social pages & articles on Channel 955!