*NSYNC Receives Star on Hollywood Walk of Fame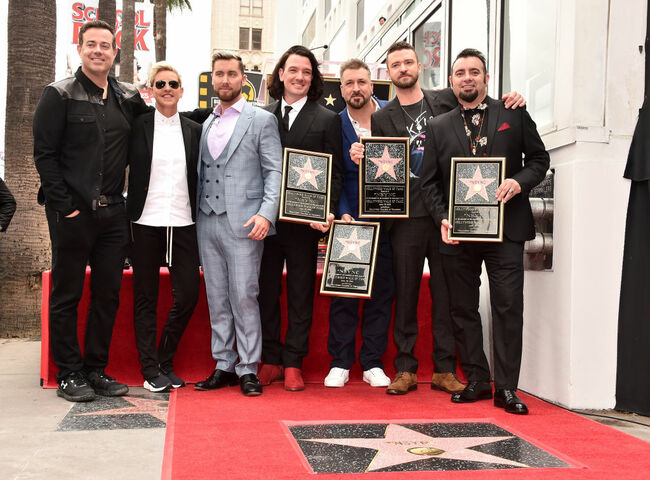 NSYNC received their star on the Hollywood Walk of Fame yesterday. All five members were there: Justin Timberlake, JC Chasez, Lance Bass, Joey Fatone and Chris Kirkpatrick.
It was the first time they have been all together in two years. (The last time was at JC's 40th birthday bash.)
Thousands of fans gathered along Hollywood Boulevard and packed both sides of the street to celebrate the event.
Ellen Degeneres and Carson Daly, who hosted TRL, gave speeches. There was even a massive, fan-led sing-along of "Tearin' Up My Heart," which Justin Timberlake's wife Jessica Biel couldn't help but join.
Each member of NSYNC spoke. Lance said, "It's my brotherhood with you guys that I'm most thankful for. I was a kid when we came together and I'm a man today because of the family I had in you. I love you guys."
JT called the moment "so surreal."
He said, "I don't think I could put into words how much the four of you mean to me. Through hard times, through unbelievable times, I just love all of you so much."
Justin also gave a shoutout to all their mom's and dad's. He called them "the real MVP" and the reason they were able to even be where they are in the world.
J.C. ended up making a reference to NSYNC's "It's Gonna Be Me" by singing "It's gonna be May!"
Source: TMZ, E!, People

Shannon's Dirty on the :30
Want to know more about Shannon's Dirty on the :30? Get their official bio, social pages & articles on Channel 955!